For the Bride
For the Bridal Party
Wedding Shop
Create Your Own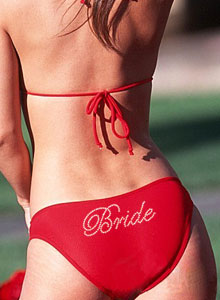 Ships in 1 day
$5 Shipping
Free Ship over $100
11 garment styles

Bride Bikini Bottoms
Sale Price: $29.90
Bride Bikini Bottoms have the word "Bride" in rhinestone crystals on the back of bikini bottoms, in your choice of bikini colors. The rhinestone lettering is our Edwardian style, which has a fancy script feeling, perfect for bridal themes. Matching bikini tops are sold separately.
Due to hygiene issues, bikini bottoms are not returnable.
May We Also Suggest:

Bride Bikini Bottoms
Bridal swimwear makes a great gift for weddings or honeymoons where the bride will be lounging poolside. These bikini bottoms have sparkling rhinestone crystals spelling "Bride" on the back of the bikini bottoms. The rhinestones will shimmer in the sunlight and give her and her husband-to-be another way to celebrate their union. Choose from bikini colors and rhinestone colors, to match the wedding colors, or just the favorite colors of the bride. Rhinestones are guaranteed to stay affixed to the bikini, even with repeated wearing and washing.
Due to hygiene issues, bikini bottoms are not returnable.

Nuptial Bride Clothing
Your whole bridal party can wear matching bridal shirts with dazzling rhinestones. The Nuptial Bride Collection uses the same font style across all garments.


sitemap
© 2004-2014 Just Jen. All Rights Reserved.