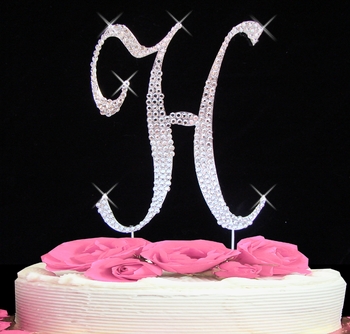 Letter H Cake Topper - Swarovski Crystal
Price: $49.90
Sale Price: $27.90
Letter H Wedding Cake Topper comes embellished with Swarovski Crystal rhinestones, the crystal with superior bling. Rhinestones adorn the front of a silver-plated letter. The letter style is French Vintage, an ornamental cursive style that is perfect for weddings and fancy events. When you are creating a monogram, go to our
Monogram Cake Topper
product.
May We Also Suggest:

Initial H Fully-covered Cake Topper
Dazzling rhinestone cake toppers are a great wedding tradition. The Letter H Wedding Cake Topper has up to 3 rows of Swarovski crystals across the face of a silver-plated letter. The letter style is French Vintage, a fancy letter style that works well for weddings.
* Size: 4 3/4" tall x 3.5" wide
To create a monogram, combining small letters with a large letter -purchase the
Monogram Cake Topper
.

* Ships in 1day
* FREE Shipping over $100



© 2004-2014 JustJen. All Rights Reserved.