For the Bride
For the Bridal Party
Wedding Shop
Create Your Own


Ships in 1 day
$5 Shipping
Free Ship over $100
4 garment styles

Embroidered Bride Hoodie (Edwardian)
Price: $44.90
Sometimes simplicity is the most effective means of communication – and when you want to let the world know your special bridal status, then you'll love our simple but effortlessly elegant Embroidered Bride Hoodie.
May We Also Suggest:

Embroidered Bride Hoodie (Edwardian)
Who says that you can only celebrate your special bridal status on your wedding day?  With our flirty and fun "Embroidered Bride Hoodie", you can let the world marvel at your newlywed status – all without uttering a single word.  Featuring the word "Bride" embroidered (in a color of your choice) in fancy script on the back of the sweatshirt, this Hoodie is perfect for running errands, heading to the gym or lounging with your bridal party before the big ceremony.  The "Embroidered Bride Hoodie" is available in a range of flattering sizes and colors.



Edwardian Wedding Clothing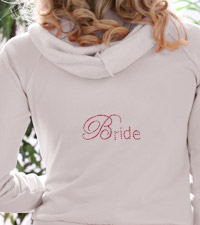 Edwardian Clothing
The Edwardian Collection has a fancy large first letter and lower-case block lettering for the perfect wedding style.



sitemap
© 2004-2014 Just Jen. All Rights Reserved.