For the Bride
For the Bridal Party
Wedding Shop
Create Your Own


Ships in 1 day
$5 Shipping
Free Ship over $100
4 garment styles

Embroidered Bridesmaid Hoodie (Edwardian)
Price: $42.90
Searching for the perfect gifts for your bridal party?  Then look no further than our "Embroidered Bridesmaid Hoodie."  Personalize each Hoodie with the bridesmaid's favorite color, or complement your wedding colors for a bridal gift that's sure to please.
May We Also Suggest:

Embroidered Bridesmaid Hoodie (Edwardian)
When you're searching for the perfect gift for your bridesmaids, don't settle for anything less than the best.  With our super-stylish and effortlessly elegant "Embroidered Bridesmaid Hoodie", your bridesmaids will feel like the stars that they are.  They'll revel in this light-weight fleece-lined Hoodie, which has "Bridesmaid" embroidered across the back of the sweatshirt.  For a uniquely personal touch, you can choose to have the Hoodie embroidered with a bridesmaid's favorite color or your wedding colors.  And with our range of sweatshirt sizes and colors, you can be sure that our "Embroidered Bridesmaid Hoodie" will be a perfect fit for everyone in your bridal party



Edwardian Wedding Clothing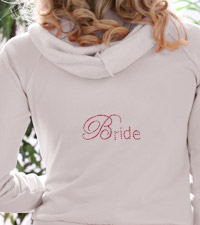 Edwardian Clothing
The Edwardian Collection has a fancy large first letter and lower-case block lettering for the perfect wedding style.



sitemap
© 2004-2014 Just Jen. All Rights Reserved.