For the Bride
For the Bridal Party
Wedding Shop
Create Your Own


Ships in 1 day
$5 Shipping
Free Ship over $100
4 garment styles

Embroidered Mrs Hoodie (Edwardian)
Price: $49.90
Whether you are preparing for the wedding or are just married, our embroidered Mrs. Hoodie will allow you to celebrate your future name.
May We Also Suggest:

Embroidered Mrs Hoodie (Edwardian)
Embroider this Hoodie with Mrs and your married name. The Mrs. Hoodie is a favorite bridal gift, or a fun way for the bride to splurge on herself. This personalized Hoodie is a great outfit for the wedding day, the bride can wear it during preparation and make-up. The Hoodie is a soft cotton with fleece lining that is medium-weight, so it can be worn during most seasons of the year.



Edwardian Wedding Clothing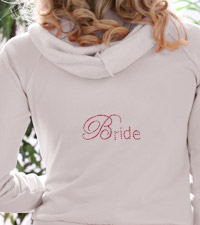 Edwardian Clothing
The Edwardian Collection has a fancy large first letter and lower-case block lettering for the perfect wedding style.



sitemap
© 2004-2014 Just Jen. All Rights Reserved.