For the Bride
For the Bridal Party
Wedding Shop
Create Your Own


Ships in 1 day
$5 Shipping
Free Ship over $100
4 garment styles

Embroidered Soon to be Mrs Hoodie (Edwardian)
Price: $49.90
You are not yet the Mrs, but you are Soon to be. Personalize our Hoodie with your future mrs name, embroidered on the back of the jacket.
May We Also Suggest:

Embroidered Soon to be Mrs Hoodie (Edwardian)
If your name and Mrs. are too long to fit on one line, they will be centered on two lines. The Hoodie is a soft cotton with fleece lining that is medium-weight, so it can be worn during most seasons of the year.

Shown: Green embroidery thread on a pink fleece-lined Hoodie..



Edwardian Wedding Clothing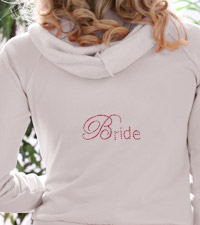 Edwardian Clothing
The Edwardian Collection has a fancy large first letter and lower-case block lettering for the perfect wedding style.



sitemap
© 2004-2014 Just Jen. All Rights Reserved.