For the Bride
For the Bridal Party
Wedding Shop
Shops
Create Your Own


Ships in 1 day
$5 Shipping
Free Ship over $100
4 garment styles

Bride Hoodie (Edwardian)
Price: $44.90
Looking for bridal lounge wear that's as elegant and classic as your tastes in fashion?  Then look no further than our chic "Edwardian Bride Hoodie," which can be personalized with your favorite crystal rhinestone color.
May We Also Suggest:

Bride Hoodie (Edwardian)
Who says that lounge wear can't be glamorous?  Once you feast your eyes on the dazzling "Edwardian Bride Hoodie," you'll be a believer in chic and comfortable bridal lounge wear.  Made with 100% cotton, this fleece-lined Hoodie is the perfect gift for the bride who's always on the go.  Featuring the word "Bride" written in Edwardian script with sparkling crystal rhinestones, this super-soft sweatshirt will highlight your special status.  Give your Hoodie an extra touch of glamour by personalizing the crystal rhinestones with your favorite color or wedding colors.  Be sure to select your sweatshirt style and color when ordering your "Edwardian Bride Hoodie.".



Edwardian Bride Clothing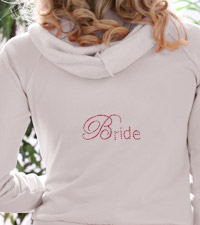 Edwardian Clothing
The Edwardian Collection has a fancy large first letter and lower-case block lettering for the perfect wedding style.





sitemap
© 2004-2014 Just Jen. All Rights Reserved.