For the Bride
For the Bridal Party
Wedding Shop
Shops
Create Your Own


Ships in 1 day
$5 Shipping
Free Ship over $100
4 garment styles

Bride Hoodie (Nuptial)
Sale Price: $36.90
Who says loungewear has to be baggy and lack style?  With our chic and trendy "Rhinestone Bride Hoodie," you'll tick all the fashion trend boxes without sacrificing your comfort.  It's perfect for both active brides-to-be and the newlywed who loves to lounge.
May We Also Suggest:

Bride Hoodie (Nuptial) - Details
The word "loungewear" brings up plenty of images – and not all of them are flattering or fashionable.  But with our super-flattering and effortlessly stylish rhinestone Bride Hoodie, you'll look like you just strolled straight off the runway.  This medium-weight, fleece-lined Hoodie features the word "Bride" embroidered in fancy script on the back of your sweatshirt, which can be customized with a range of crystal rhinestones in your color choice.  Additionally, the "Rhinestone Bride Hoodie" is available in a variety of sizes and colors, giving your Hoodie a unique look that will speak volumes about your impeccable fashion tastes.



Nuptial Wedding Clothing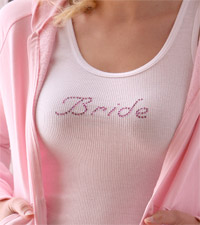 Nuptial Clothing
Your whole bridal party can wear matching bridal shirts with dazzling rhinestones. The Nuptial Bride Collection uses the same font style across all garments.



sitemap
© 2004-2014 Just Jen. All Rights Reserved.