Create Your Own
Wedding Shop
Bridal Clothing
Shops


Ships in 1 day
$5 Shipping
Free Ship over $100
4 garment styles

Cotton Fleece Hoodie (Blank)
Sale Price: $33.00
Looking for loungewear that's just as classic and sophisticated as your wedding dress?  Then you'll fall head over heels for our "Matching Cotton Fleece Hoodie," which takes fashionable simplicity to the next level.
May We Also Suggest:

Cotton Fleece Hoodie
As a bride, you love the look of clean lines, elegant sophistication and minimal accessories.  That's why our "Matching Cotton Fleece Hoodie" is about to become your go-to piece in your bridal wardrobe. Made from 100% cotton, this fleece-lined American Apparel Hoodie is designed to match anything in your bridal loungewear collection.  As this ultra-soft and sweet sweatshirt doesn't feature any bridal rhinestone designs, you can sport it long after your nuptials.  Be sure to select your favorite sweatshirt color and size when ordering your "Matching Cotton Fleece Hoodie."



Nuptial Wedding Clothing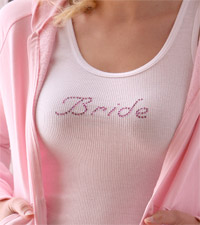 Nuptial Clothing
Your whole bridal party can wear matching bridal shirts with dazzling rhinestones. The Nuptial Bride Collection uses the same font style across all garments.



sitemap
© 2004-2014 Just Jen. All Rights Reserved.