For the Bride
For the Bridal Party
Wedding Shop
Shops
Create Your Own


Ships in 1 day
$5 Shipping
Free Ship over $100
4 garment styles

Initial Hoodie (Nuptial)
Price: $36.90
Looking for a cool and classic way to express your unique style?  Then you'll absolutely love the "Rhinestone Initial Hoodie."  Featuring your initial in dazzling crystal rhinestones and a flattering fit, you'll never want to take this bridal Hoodie off.
May We Also Suggest:

Initial Hoodie (Nuptial) - Details
If you're looking for a comfortable way to run your bridal errands in style, then look no further than our sassy "Rhinestone Initial Hoodie."  This 100% fleece-lined cotton Hoodie will display your special status to the world, while your elegant Edwardian initial will place your individual stamp on this super-soft sweatshirt.  Personalize your Hoodie by selecting from our vast range of dazzling crystal rhinestones while choosing your ideal Hoodie style and color.  No matter what you choose, you can be confident that you'll always look like a special bride-to-be with our "Rhinestone Initial Hoodie."



Nuptial Wedding Clothing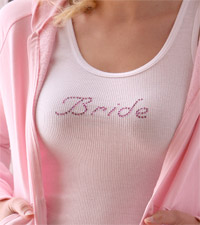 Nuptial Clothing
Your whole bridal party can wear matching bridal shirts with dazzling rhinestones. The Nuptial Bride Collection uses the same font style across all garments.



sitemap
© 2004-2014 Just Jen. All Rights Reserved.