For the Bride
For the Bridal Party
Wedding Shop
Shops
Create Your Own


Ships in 1 day
$5 Shipping
Free Ship over $100
4 garment styles

Martini Hoodie
Price: $44.90
Martini Hoodie Sweatshirt sparkles with Swarovski crystals. The Martini Hoodie has clear crystals for the glass, red and olivine crystals for the olive. Your bachelorette party is coming up – and if you want your bridal party to enjoy it in style.
May We Also Suggest:

Martini Hoodie - Details
Every bride wants to have a good time with her bridal party – and once you don this rhinestone Martini Hoodie you'll be in the mood for fun.  Featuring a glamorous crystal rhinestone, this 100% cotton fleece-lined sweatshirt will put you and your bridal party right in the spotlight where you belong.   Select from cotton fleece or velour Hoodie styles and pink, black and white colors. The martini Hoodie looks particularly good on a black Hoodie, the crystal rhinestones really sparkle off a dark background.



Bride Clothing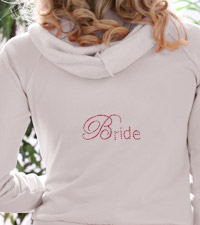 Edwardian Clothing
The Edwardian Collection has a fancy large first letter and lower-case block lettering for the perfect wedding style.



sitemap
© 2004-2014 Just Jen. All Rights Reserved.