For the Bride
For the Bridal Party
Wedding Shop
Shops
Create Your Own


Ships in 1 day
$5 Shipping
Free Ship over $100
4 garment styles

Mrs Hoodie Sweatshirt (Edwardian)
Price: $49.90
Let the world know just how excited you are to be a Mrs.!  The "Mrs. Hoodie Sweatshirt" features your new last name in a gorgeous Edwardian-and-block script, which can be personalized.  Your script can be further personalized with a selection of sparkling Swarovski crystal gemstones.  This hoodie is the perfect choice for lounging around before getting ready for the big ceremony.
May We Also Suggest:

Mrs. Hoodie (Edwardian) - Details
You don't have to wait until the ceremony to start enjoying your sweetie's last name.  Thanks to our sumptuous and soft "Mrs. Hoodie" bridal sweatshirt, you can let everyone know just how thrilled you are to be starting a new life with your future husband.  Put your unique stamp on your fleece-lined Hoodie with a selection of 22 beautiful crystal rhinestone colors.  Additionally, you can choose one of three beautiful Hoodie colors and three Hoodie styles.  Don your "Mrs. Hoodie Sweatshirt" while running wedding-related errands or during your wedding preparation – just don't be surprised when people stop you to offer their congratulations.



Edwardian Bride Clothing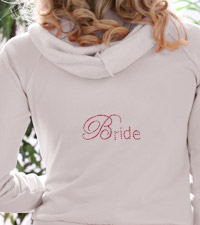 Edwardian Clothing
The Edwardian Collection has a fancy large first letter and lower-case block lettering for the perfect wedding style.





sitemap
© 2004-2014 Just Jen. All Rights Reserved.