For the Bride
For the Bridal Party
Wedding Shop
Create Your Own


Ships in 1 day
$5 Shipping
Free Ship over $100
4 garment styles

Personalized Mrs Hoodie
Price: $44.90
Now that you're sharing a last name with your sweetheart, celebrate your special newlywed status with our soft and stylish rhinestone "Personalized Mrs. Hoodie."  Wear it around the house or out with your sweetheart to let him know just how thrilled you are to be his missus
May We Also Suggest:

Mrs. Hoodie (Nuptial) - Details
Between the reception and the honeymoon, there are plenty of opportunities to celebrate your newlywed status.  But sometimes the smallest touches are the most meaningful – and we guarantee that when your husband sees our "Personalized Mrs. Hoodie", he'll truly realize just how excited you are to be his missus.  Personalize your Hoodie with our range of vibrant crystal colors, all of which will make your new last name sparkle and shine.  Give your flirty and fashionable Hoodie a unique touch with our range of Hoodie styles and colors.



Nuptial Wedding Clothing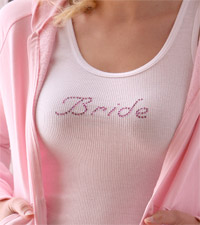 Nuptial Clothing
Your whole bridal party can wear matching bridal shirts with dazzling rhinestones. The Nuptial Bride Collection uses the same font style across all garments.



sitemap
© 2004-2014 Just Jen. All Rights Reserved.