Create Your Own
Wedding Shop
Bridal Clothing
Shops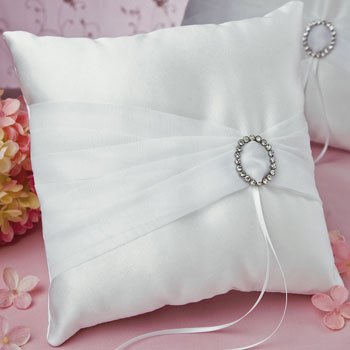 Crystal Eternity Ring Pillow

Ships in 2 days
Free Ship over $100
Optional Crystal Monogram

Price: $23.90
Your wedding rings represent the unique and special love that you share with your sweetheart – and they deserve to be shown on an equally special ring pillow.  The Crystal Eternity Ring Pillow is bold enough to make a stylish statement, but subdued enough to ensure that your wedding rings take center stage on the most important day of your life.
May We Also Suggest:

Ring Pillow - Crystal Eternity
The Crystal Eternity Ring Pillow will give your wedding rings the stylish backdrop they deserve.  Made from the finest quality bridal satin, your wedding rings will look like the crown jewels when placed on this seriously sophisticated ring pillow.  Multiple layers of ribbon wrap around the Crystal Eternity Ring Pillow, which is finished with a flourish of oval-shaped rhinestone jewelry.  The Crystal Eternity Ring Pillow is available in white for silver wedding rings and ivory for gold wedding rings



Crystal Eternity Collection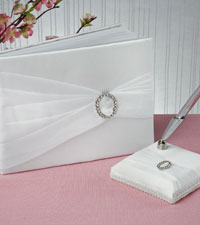 Crystal Eternity Collection
The Crystal Eternity Collection is a seamless blend of Old-World sophistication and New-World glamour.  Featuring delicate yet dramatic pieces like organza bows, rhinestone pieces and bridal satin, the Crystal Eternity Collection is as timeless and romantic as the love you share with your spouse-to-be.



sitemap
© 2004-2014 Just Jen. All Rights Reserved.