For the Bride
For the Bridal Party
Wedding Shop
Shops
Create Your Own


Ships in 1 day
$5 Shipping
Free Ship over $100
4 garment styles

Bride Sweat Pants (3 Crystal Rows)
Price: $39.90
Our super comfortable "Bride Sweat Pants" is the perfect outfit to wear while running all of those busy wedding-day errands.  Three rows of playful and glam Swarovski crystals spell the word "Bride", which lets everyone see your special status.  The outer row of crystals is clear; however, you can personalize the two inner rows with your choice of crystal colors.
May We Also Suggest:

Bride Sweat Pants (3 Row)
Let's face it – you've never been one to sacrifice sexiness for comfort.  That's why our incredibly luxurious "Bride Sweat Pants" is the perfect choice for you: by combining super soft fleece with a form-fitting shape, these sweat pants will make you feel as though you're already walking down the aisle.  The "Bride Sweat Pants" are available in two separate styles and three colors, while the two inner rows of the "Bride" crystals are available in 22 colors.   Please note that the outer row of "Bride" will be comprised of clear Swarovski crystals.



3 Row Bride Clothing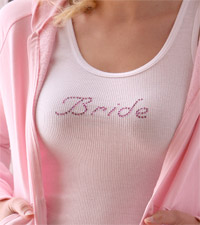 sitemap
© 2004-2014 Just Jen. All Rights Reserved.