For the Bride
For the Bridal Party
Wedding Shop
Shops
Create Your Own


Ships in 1 day
$5 Shipping
Free Ship over $100
4 garment styles

Bride Sweat Pants
Sale Price: $31.90
Looking for the perfect complement to your bridal Hoodies and sweatshirts?  Then look no further than our super-soft, flirty and ultra-flattering rhinestone Bride sweat pants – they're perfect for the bride who's always on the go.
May We Also Suggest:

Bride Sweat Pants (Nuptial)
You normally don't ask for much from your clothes.  But it's no secret that when it comes to planning your wedding, you want to be comfortable without sacrificing style.  With our flattering rhinestone Bride sweat pants, you can achieve the best of both worlds while running your bridal errands.  These fleece-lined, medium-weight sweat pants feature the word "Bride" written in fancy script on your sweat pants, which can be customized with crystal rhinestones of your choice.  Choose from a range of flattering styles and colors for a stylish touch that's all your own.



Nuptial Wedding Clothing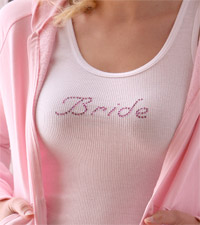 Nuptial Clothing
Your whole bridal party can wear matching bridal shirts with dazzling rhinestones. The Nuptial Bride Collection uses the same font style across all garments.



sitemap
© 2004-2014 Just Jen. All Rights Reserved.