For the Bride
For the Bridal Party
Wedding Shop
Shops
Create Your Own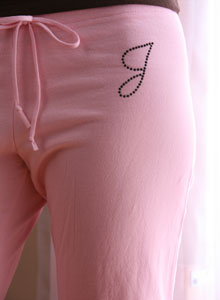 Ships in 1 day
$5 Shipping
Free Ship over $100
4 garment styles

Initial Sweat Pants (Nuptial)
Price: $29.90
Want to really pull together your bridal lounge wear?  Then don't miss out on our sassy "Rhinestone Initial Sweat Pants."  An effortless combination of comfort and style means you'll always feel like you're walking down the aisle.
May We Also Suggest:

Initial Sweat Pants (Nuptial)
As a modern bride, you know that the most breathtaking bridal looks are ones that combine function with fashion.  That's why you're sure to appreciate our gorgeous "Rhinestone Initial Sweat Pants."  Featuring a modern fit with classic sweat pants comfort, this is lounge wear that shouldn't be kept indoors.  Personalize your "Rhinestone Initial Sweat Pants" by selecting your favorite color from our wide range of sparkling crystal rhinestones.  Don't forget to pick out your favorite style and color for a unique look that's all your own.



Nuptial Wedding Clothing
Your whole bridal party can wear matching bridal shirts with dazzling rhinestones. The Nuptial Bride Collection uses the same font style across all garments.



sitemap
© 2004-2014 Just Jen. All Rights Reserved.