For the Bride
For the Bridal Party
Wedding Shop
Shops
Create Your Own


Ships in 1 day
$5 Shipping
Free Ship over $100
4 garment styles

Wedding Bell Sweat Pants
Price: $35.90
Looking for a fun and flirty complement to your bridal Hoodie?  Then you'll absolutely love our "Wedding Bells Sweat Pants."  Personalize your bridal lounge wear with our fabulous range of dazzling crystal rhinestones and flattering Hoodie colors.
May We Also Suggest:

Wedding Bells Sweat Pants
If you can't wait another moment until you hear the peal of those wedding bells, then you'll love our fun and flirty "Wedding Bells Sweat Pants."  Designed to be a perfect complement to our Wedding Bells Hoodie, these sweat pants will let you run your bridal errands in comfort and style.  Featuring a wedding bells design in gorgeous crystal rhinestones, our sweat pants are lined with soft fleece for added comfort.  Personalize your sweat pants with your favorite rhinestone colors for an added touch of glamour.  Don't forget to choose your favorite style and color when ordering your "Wedding Bells Sweat Pants."



Nuptial Wedding Clothing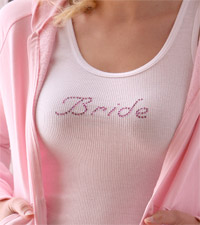 Nuptial Clothing
Your whole bridal party can wear matching bridal shirts with dazzling rhinestones. The Nuptial Bride Collection uses the same font style across all garments.



sitemap
© 2004-2014 Just Jen. All Rights Reserved.