For the Bride
For the Bridal Party
Wedding Shop
Create Your Own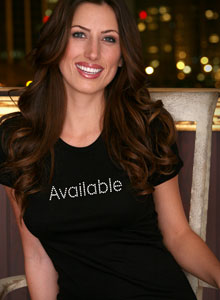 Ships in 1 day
$5 Shipping
Free Ship over $100
11 garment styles

Available Bachelorette T-shirt
Sale Price: $19.90
For the Bachelorette Party sometimes you need to let them know who is Taken, and whom is still Available. Dazzling rhinestones will get attention and let the guys know who is still available for courting.
May We Also Suggest:

Available Bachelorette T-shirt
Bachelorette shirts that give fair warning to the guys about who is taken and who is still Available in the party. The word "Available" is written across the front of the shirt with brilliant rhinestones, you choose the color.  No matter which shirt style or colors you pick, you'll look glitzy and glamorous all night long. The matching "Taken" shirts are available for the girls who are off the market. 



Nuptial Bride Clothing
Your whole bridal party can wear matching bridal shirts with dazzling rhinestones. The Nuptial Bride Collection uses the same font style across all garments.





sitemap
© 2004-2014 Just Jen. All Rights Reserved.