For the Bride
For the Bridal Party
Wedding Shop
Shops
Create Your Own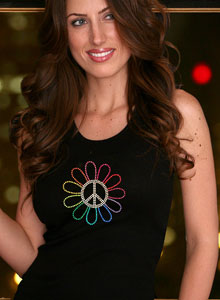 Ships in 1 day
$5 Shipping
Free Ship over $100
11 garment styles

Flower Peace Sign T-shirt
Price: $22.90
For the flower child spirit within, our colorful "Flower Peace Sign T-shirt" is sure to win hearts and minds.  The sparkling rhinestones and prominent peace symbol have a classic feel with a modern twist.
May We Also Suggest:

Flower Peace Sign T-shirt
Declare your 60's flower power with our vintage-meets-modern Flower Peace Sign T-shirt.  Your devotion to peace and love will draw attention with all the colors of the rainbow in the Swarovski crystal rhinestone petals.  The timeless symbol of peace is nestled into the center of the flower in double rows of white rhinestones.  You'll be comfortable in the 100% soft cotton design and style of your choice as you cheer for universal brotherhood.  Pick your favorite color and you'll be ready to awe the crowds in your Flower Peace Sign T-shirt.



Nuptial Bride Clothing
Your whole bridal party can wear matching bridal shirts with dazzling rhinestones. The Nuptial Bride Collection uses the same font style across all garments.





sitemap
© 2004-2014 Just Jen. All Rights Reserved.