Create Your Own
Big Sister Shops
Girls Clothing
Shops





Ships in 1 day
$5 Shipping
Free Ship over $100
9 garment styles

Happy Birthday Cupcake T-shirt
Sale Price: $17.90
It's your little girl's special day – let her celebrate in style with our ultra-adorable "Happy Birthday!" T-shirt.  You can personalize this comfortable and colorful printed t-shirt with her name, which guarantees she'll want to wear it all year round.
May We Also Suggest:

Details - Happy Birthday Cupcake
Looking for the perfect birthday gift for that special little girl?  Then why not give her the gift of our fabulous "Happy Birthday!" t-shirt?  This glamorous t-shirt features the words "Happy Birthday" written in a fun font, while a delightful cupcake design is perched atop these well-wishes.   The "Happy Birthday" t-shirt can be personalized with the birthday girl's name, which guarantees she'll feel like a million bucks on her special day.  Don't forget to choose her favorite t-shirt style and size for a birthday gift she's sure to love.



Celebration Shop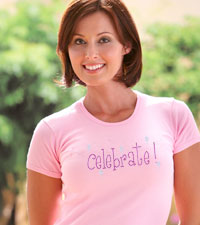 Celebration Gifts
For all your celebrations - birthdays, holidays, newborn babies - a sparkling rhinestone T-shirt can be a fun addition to the festivities.



sitemap
© 2004-2013 JustJen. All Rights Reserved.