Create Your Own
Big Sister Shops
Girls Clothing
Shops





Ships in 1 day
$5 Shipping
Free Ship over $100
9 garment styles

World's Sweetest Little Sister T-shirt
Sale Price: $17.90
What is the sweetest little sister in the world without her very own t-shirt that has a  yummy, sugary cupcake design on the front, along with her own lively wording,  "World's Sweetest Little Sister,"  to show  how much she is loved and appreciated by her family.  Delicate lettering can be added for a name personalization.
May We Also Suggest:

World's Sweetest Little Sister
Little Sister will love this super soft cotton and feminine t-shirt with its fluffy frosting cupcake design as well as colored sprinkles, cherry topper and a lime green polka dot cupcake holder.  This comfortable and sweet t-shirt is for the little sister who loves being the sweetest little sister to her other sisters, mom and dad, extended family and friends.  She can wear this t-shirt with its mouth-watering cupcake design and bright lettering, along with her own name to complete the design. She will know that her special t-shirt is in celebration of her honored place within the family.  Just Jen's "World's Sweetest Little Sister T-Shirt" is the perfect adornment for any little sister.



Big Sister Gifts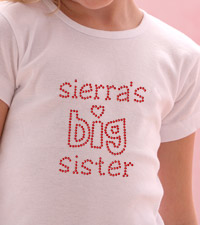 Surprise your friends and relatives with a Big Sister shirt to announce a newborn, or give the Big and Little sisters matching shirts.



sitemap
© 2004-2013 JustJen. All Rights Reserved.