Sister Shops
Brother Shops
For Family
Create Your Own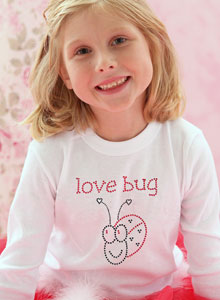 Ships in 1 day
$5 Shipping
Free Ship over $100
9 garment styles

Girls Love Bug T-shirt
Sale Price: $19.90
Love Bug T -Shirt is a fun Valentine shirt for a girl, that she can wear any day of the year. The ' Love Bug" has hearts on the tips of her antennae.
May We Also Suggest:

Girls Love Bug T-shirt
This adorable girls t-shirt has a cute bug and the words "love bug" in dazzling rhinestone crystals. The colors of the bug are always in red and black with the letters in red rhinestones. This shirt is a perfect gift around Valentine's Day, but she can wear it the whole year. She might not like bugs, but she will love her "love bug". Available in a variety of shirt styles and colors for both toddlers from 3-6 months to girls size 12.



Girls Shop

Girls Clothing
Girls of all ages, from toddlers to pre-teens, love sparkling shirts, especially when they are personalized.



sitemap
© 2004-2014 Just Jen. All Rights Reserved.