Shops
Womens Shop
Products
Create Your Own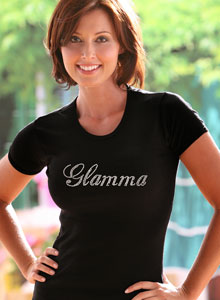 Ships in 1 day
$5 Shipping
Free Ship over $100
11 garment styles

Glamma T-shirt
Sale Price: $19.90
Dont forget grandma on Mother's Day! For the grandmother who likes to be glamorous, we have the perfect sparkling shirt - Glamma. Our Glamma design can be made with any color crystals.
May We Also Suggest:

Glamma T-shirt - Details
Our rhinestone Glamma T-shirt is a dazzling rhinestone way to celebrate Grandma. The Glamma T-shirt is written in our Lucky style of lettering with double rows of crystal. Choose your rhinestone color and choice of shirt style for a dazzling Mother's Day gift for Grandma.



Womens Clothing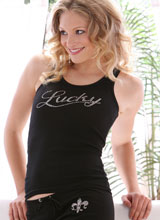 Give mom a sparkling rhinestone shirt for her special day, or have her daughter wear a shirt with her Mom's name.



sitemap
© 2004-2014 Just Jen. All Rights Reserved.