For the Bride
For the Bridal Party
Wedding Shop
Create Your Own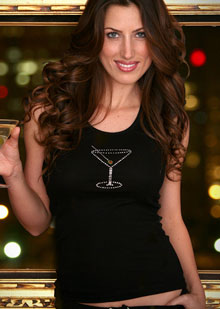 Ships in 1 day
$5 Shipping
Free Ship over $100
11 garment styles

Rhinestone Martini T-shirt
Price: $22.90
Whether you like it shaken or stirred, our glamorous "Martini T-Shirt" is sure to please the Bond Girl at heart.  This dazzling crystal rhinestone martini shirt is perfect for a big night out – and even better for a wild bachelorette party.
May We Also Suggest:

Rhinestone Martini Tee Shirt
Like 007 himself, you're very particular about your martinis.  That's why we're confident you'll fall head over heels for our deliciously devilish rhinestone Martini T-Shirt.  Made with 100% soft cotton, you'll feel as irresistible as James Bond when you sport this super-flattering shirt.  A delightful martini glass design is featured in crystal rhinestones on the front of the shirt.  For an added touch of sophistication that's sure to be a hit, you can customize the rhinestones to suit your favorite color.  Be sure to select your favorite shirt style and color when ordering your Martini T-Shirt.



Nuptial Bride Clothing
Your whole bridal party can wear matching bridal shirts with dazzling rhinestones. The Nuptial Bride Collection uses the same font style across all garments.





sitemap
© 2004-2014 Just Jen. All Rights Reserved.