For the Bride
For the Bridal Party
Wedding Shop
Shops
Create Your Own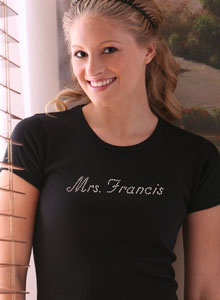 Ships in 1 day
$5 Shipping
Free Ship over $100
11 garment styles

Mrs T-shirt
Sale Price: $24.90
You can't wait until the day when you'll be known by your sweetheart's last name.  Until that magical day arrives, celebrate your new last name with our popular "Rhinestone Mrs. T-shirt", which can be personalized with your favorite colors..
May We Also Suggest:

Personalized Mrs T-shirt
You may be looking forward to the moment when you're announced as man and wife, but what you're really excited about is taking his last name.  Show your future hubby just how much you care by wearing our stylish rhinestone Mrs. T-shirt.  This form-flattering shirt comes in a variety of shirt styles, which means you'll be comfortable no matter where your bridal errands may take you.  Dazzling crystal rhinestones spell out your new last name; these crystals can also be selected in your favorite color.  For an added touch of glamour, choose your favorite shirt color and style when ordering your rhinestone Mrs. T-shirt.



Nuptial Bride Clothing
Your whole bridal party can wear matching bridal shirts with dazzling rhinestones. The Nuptial Bride Collection uses the same font style across all garments.





sitemap
© 2004-2014 Just Jen. All Rights Reserved.