For the Bride
For the Bridal Party
Wedding Shop
Shops
Create Your Own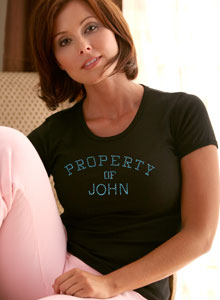 Ships in 1 day
$5 Shipping
Free Ship over $100
11 garment styles

Property of T-shirt
Sale Price: $19.90
Your heart belongs to your husband –let everyone know that the rest of you belongs to him too with our popular "Property of T-shirt." This shirt can be personalized with your hubby's name and in your favorite crystal rhinestone colors.
May We Also Suggest:

Property of T-shirt
You and your hubby only have eyes for each other – so why not let everyone else know that you "belong" to him with our sassy Property of T-shirt? This shirt is made from super-soft cotton, so you'll feel comfortable no matter where the day may take you. This shirt features the words "Property of" written across the front in glamorous crystal rhinestones, which can be personalized with your husband's first name. You can also customize the rhinestones to reflect your favorite colors. Be sure to  select your shirt style and color when ordering your Property of T-shirt.



Nuptial Bride Clothing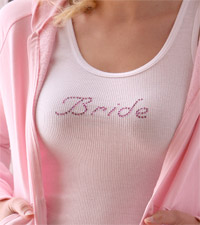 Nuptial Clothing
Your whole bridal party can wear matching bridal shirts with dazzling rhinestones. The Nuptial Bride Collection uses the same font style across all garments.



sitemap
© 2004-2014 Just Jen. All Rights Reserved.