For the Bride
For the Bridal Party
Wedding Shop
Create Your Own


Ships in 1 day
$5 Shipping
Free Ship over $100
4 garment styles

Bachelorette Party Hoodie
Price: $46.90
All your bachelorette party members can wear a hoodie that will make them the center of attention and unify the big night out on the town.
May We Also Suggest:

Bachelorette Party Hoodie
Our Bachelorette Party Hoodies will keep you warm during your girls night out. You will love the soft fleece lining on this light-weight Hoodie. Bachelorette Party letters and martini glass graphic are created with rhinestones, for dazzling sparkle. Crystallized with Swarovski elements, for the maximum bling. Choose the color of the letters, the martini glass is always crystal with fuchsia liquid rhinestones..



Edwardian Bride Clothing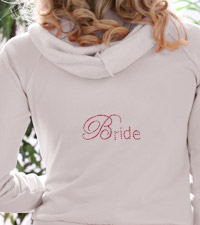 Edwardian Clothing
The Edwardian Collection has a fancy large first letter and lower-case block lettering for the perfect wedding style.





sitemap
© 2004-2014 Just Jen. All Rights Reserved.