For the Bride
For the Bridal Party
Wedding Shop
Shops
Create Your Own


Ships in 1 day
$5 Shipping
Free Ship over $100
4 garment styles

Bride Hoodie (Fancy)
Price: $44.90
Glamorous brides everywhere will love the look of our soft, fleece-lined "Fancy Bride" Hoodie.  The word "Bride" is written in large and fancy script across the back of the Hoodie, letting everyone know all about your special status.  Choose from 22 Swarovski crystal colors to give your "Fancy Bride" Hoodie a personal touch.
May We Also Suggest:

Fancy Bride Hoodie - Details
You love looking elegant – and this love of sophistication extends to your leisure wear.  Being comfortable doesn't't mean you should look anything less than spectacular – and that's exactly where our "Fancy Bride" Hoodie comes in.  Made from super soft fleece, our Hoodie is available in three Hoodie styles and colors.  Choose our form-fitting style for a sexy touch, or try out or unisex fit for a loose and comfortable fit.  Be sure to personalize the fancy script "Bride" with your choice of 22 gorgeous and vibrant Swarovski crystal colors.  After all, your big day is all about you – and even your leisure wear should reflect that!

Edwardian Bride Clothing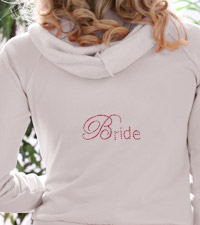 Edwardian Clothing
The Edwardian Collection has a fancy large first letter and lower-case block lettering for the perfect wedding style.





sitemap
© 2004-2014 Just Jen. All Rights Reserved.