For the Bride
For the Bridal Party
Wedding Shop
Shops
Create Your Own


Ships in 1 day
$5 Shipping
Free Ship over $100
4 garment styles

Future Mrs Ring Hoodie (printed)
Price: $42.90
Customize this Hoodie with the name of the bride. The design is simple and fun, with a diamond ring graphic next to the word Future.
May We Also Suggest:

Future Mrs Ring Hoodie (printed)
A fun Hoodie for the bride to wear on her wedding day and in the days leading up to her nuptials. Our printed Future Mrs Hoodie has a ring graphic next to the word Future. The design can be applied to a variety of Hoodie styles and colors.



Edwardian Wedding Clothing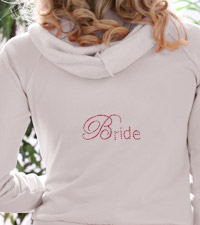 Edwardian Clothing
The Edwardian Collection has a fancy large first letter and lower-case block lettering for the perfect wedding style.



sitemap
© 2004-2014 Just Jen. All Rights Reserved.