For the Bride
For the Bridal Party
Wedding Shop
Shops
Create Your Own


Ships in 1 day
$5 Shipping
Free Ship over $100
4 garment styles

The Future Mrs Hoodie (Edwardian)
Price: $49.90
From the moment you first met your sweetheart, you knew that you would become his wife.  Now that the big day is coming up, personalize your special love with our flirty and fashionable rhinestone "Future Mrs. Hoodie Sweatshirt."
May We Also Suggest:

The Future Mrs Hoodie (Edwardian)
With our comfortable and chic "Future Mrs. Hoodie Sweatshirt," you don't have to wait for the big day to start letting the world know how proud you are of your new last name.  You can personalize this super-soft fleece-lined sweatshirt with a range of our vibrant crystal rhinestones, which will then be embroidered in Edwardian script on the back of the Hoodie.  The "Future Mrs. Hoodie Sweatshirt" is available in a range of flattering sizes and colors.  Whether you sport your new Hoodie to the gym or don it for a lazy afternoon on the couch with your hubby-to-be, the "Future Mrs. Hoodie Sweatshirt" is the perfect addition to any fashionable bride's wardrobe.



Edwardian Bride Clothing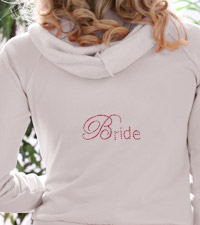 Edwardian Clothing
The Edwardian Collection has a fancy large first letter and lower-case block lettering for the perfect wedding style.





sitemap
© 2004-2014 Just Jen. All Rights Reserved.