For the Bride
For the Bridal Party
Wedding Shop
Shops
Create Your Own


Ships in 1 day
$5 Shipping
Free Ship over $100
4 garment styles

Initial Sweat Pants (Edwardian)
Price: $33.90
Looking for a sexy, sassy and surprising way to complement your bridal Hoodie?  Then look no further than the "Initial Sweat Pants (Edwardian)".   Thanks to its trendy crystal rhinestones, flirty colors and flattering sizes, these sweat pants turn lounging into a glamorous activity.
May We Also Suggest:

Initial Sweat Pants (Edwardian)
Whether you're looking for the perfect bridal gift or you want to perfectly complement your new bridal Hoodie, then you'll be pleased with your new "Initial Sweat Pants (Edwardian)".  Choose from a range of glamorous crystal rhinestones to personalize your sweat pants with your initials, which will be embroidered in a dramatic font.  Our variety of sweat pants styles and colors mean that you can add your unique touch, making these sweat pants a truly individual and fashionable way to celebrate your newlywed status.



Edwardian Bride Clothing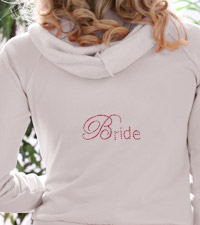 Edwardian Clothing
The Edwardian Collection has a fancy large first letter and lower-case block lettering for the perfect wedding style.





sitemap
© 2004-2014 Just Jen. All Rights Reserved.