For the Bride
For the Bridal Party
Wedding Shop
Shops
Create Your Own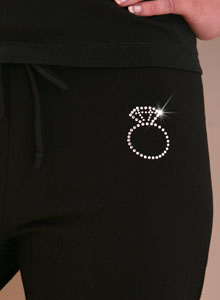 Ships in 1 day
$5 Shipping
Free Ship over $100
4 garment styles

Ring Sweat Pants
Sale Price: $29.90
Looking for the perfect complement to your Bridal Hoodie?  Then don't miss out on our super-stylish rhinestone "Diamond Ring Sweat Pants."  Combined with your bridal Hoodie, you'll truly enjoy your new luxury bridal bridal sweat suit.
May We Also Suggest:

Ring Sweat Pants
The life of a bride-to-be can be quite hectic.  From running wedding errands and meeting with your wedding planner to sending out hundreds of invites, you'll need some serious recuperation time.  Why not relax in style with our sumptuously soft "Diamond Ring Sweat Pants"?  Designed to perfectly complement our "Rhinestone Ring Bridal Hoodie", these fashionable and flattering sweat pants feature an elegant crystal rhinestone ring (the ring can be customized to suit your favorite color).  Additionally, choose from a variety of sweat styles and colors to add your own personal touch to your luxury lounge wear.



Nuptial Wedding Clothing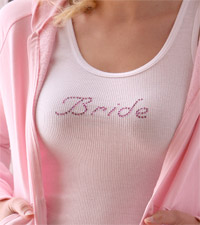 Nuptial Clothing
Your whole bridal party can wear matching bridal shirts with dazzling rhinestones. The Nuptial Bride Collection uses the same font style across all garments.



sitemap
© 2004-2014 Just Jen. All Rights Reserved.