For the Bride
For the Bridal Party
Wedding Shop
Create Your Own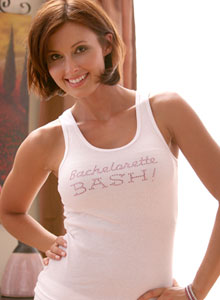 Ships in 1 day
$5 Shipping
Free Ship over $100
11 garment styles

Bachelorette Bash T-shirt
Price: $22.90
Sometimes people just need a big sign that it's time to party.  With our dazzling Bachelorette Bash T-shirt, everyone will know you're in the mood to celebrate.  Customize your shirt with our vast range of dazzling crystal rhinestones. 
May We Also Suggest:

Bachelorette Bash T-shirt
You and your bridal party are going to do just that: party.  Let everyone know it's time to join in the fun with our Bachelorette Bash T-shirt.  Made in America, this shirt will guarantee the party follows you wherever you go.  The words "Bachelorette Bash" are written across the front of the shirt with brilliant crystal rhinestones.  Personalize the rhinestones to suit your favorite color, or your wedding colors.  No matter which option you pick, you'll look glitzy and glamorous all night long.  Don't forget to select your favorite shirt style and color when ordering your Bachelorette Bash T-shirt.



Nuptial Bride Clothing
Your whole bridal party can wear matching bridal shirts with dazzling rhinestones. The Nuptial Bride Collection uses the same font style across all garments.





sitemap
© 2004-2014 Just Jen. All Rights Reserved.