For the Bride
For the Bridal Party
Wedding Shop
Create Your Own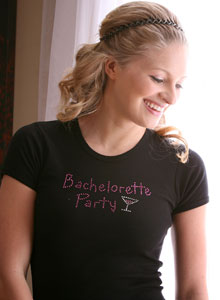 Ships in 1 day
$5 Shipping
Free Ship over $100
11 garment styles

Bachelorette Party T-shirt
Price: $24.90
You'll never forget your bachelorette party – and thanks to our cute and chic Bachelorette Party T-shirt, you can perfect the best night out with your bridal party. This ultra-flattering shirt features dazzling crystal rhinestones for an added touch of glamour.
May We Also Suggest:

Bachelorette Party T-shirt
You want your bachelorette party to look sassy yet stylish for the big night out on the town – and that's where our beautiful Bachelorette Party T-shirts come into play.  Featuring 100% cotton material that's soft yet form-flattering, these shirts will be the life of any bachelorette party.  Sparkling crystal rhinestones spell out "Bachelorette Party" on the front of the shirt, which is accessorized with an adorable martini glass.  For an added touch of glamour, personalize the crystal rhinestones with your wedding colors.  Be sure to pick out everyone's favorite shirt style and color when ordering our popular Bachelorette Party T-shirts.



Nuptial Bride Clothing
Your whole bridal party can wear matching bridal shirts with dazzling rhinestones. The Nuptial Bride Collection uses the same font style across all garments.





sitemap
© 2004-2014 Just Jen. All Rights Reserved.