Holiday Shop
Shops
Create Your Own


Ships in 1 day
$5 Shipping
Free Ship over $100
11 garment styles

Birthday Cake T-shirt
Sale Price: $18.90
Celebrate the special day with our Birthday Cake T-shirt in Swarovski crystals. This fun and playful shirt will set the mood for her special day.
May We Also Suggest:

Birthday Cake T-shirt
Simple rhinestone design is the perfect t-shirt for her birthday celebration. Our Birthday Cake T-shirt uses rose (pink), citrine (yellow), peridot (green) and aqua (blue) rhinestones to create the perfect birthday cake. Apply this unique design to a variety of shirt styles and colors.



Celebration Shop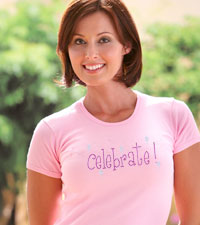 Celebration Gifts
For all your celebrations - birthdays, holidays, newborn babies - a sparkling rhinestone T-shirt can be a fun addition to the festivities.



sitemap
© 2004-2014 Just Jen. All Rights Reserved.