Create Your Own
Shops
Bachelorette Gifts


Ships in 1 day
$5 Shipping
Free Ship over $100
11 garment styles

Bachelorette Entourage T-shirt
Sale Price: $16.90
Every Bachelorette party needs an entourage to support the bachelorette in her last night of freedom. Our Bachelorette Entourage T-shirt has silhouettes of a group of girls, ala Charlie's Angels. The shirt can be personalized with the name of each member of the bachelorette party.
May We Also Suggest:

Bachelorette Entourage T-shirt
Movie stars aren't the only ones who need an entourage to make them feel special. With our Bachelorettes Entourage T-shirts the bachelorette will be the star of the evening. The design features a Charlie's Angels-style silhouette of a group of sexy women. Your bachelorette entourage can choose from a variety of print colors and shirt styles and colors, for the perfect bachelorette party. The personalized name is always in brown.

Bachelorette Gifts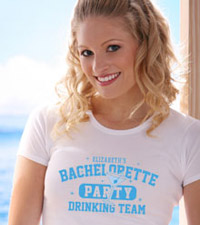 Bachelorette Gifts
Bachelorette party styles and gifts



sitemap
© 2004-2014 Just Jen. All Rights Reserved.