For the Bride
For the Bridal Party
Wedding Shop
Shops
Create Your Own


Ships in 1 day
$5 Shipping
Free Ship over $100
11 garment styles

Team Bride T-shirt
Sale Price: $16.90
Every bride needs a great team to make her big day special. Our Team Bride T-shirts have a distressed print style that fits with the team spirit design. Add the date or location of the event for extra fun.
May We Also Suggest:

Team Bride Shirt
All the bridesmaids and bridal party can get behind the bride, with Team Bride T-shirts. Our Team Bride T-shirt has a distressed print appearance and is available in a variety of print colors. Option to include the date of the event or the location in the banner at the bottom of the design. Apply this design to shirt styles including fitted shirts, raglan and tank tops.

Bachelorette Gifts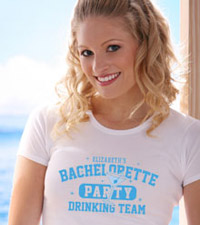 Bachelorette Gifts
Bachelorette party styles and gifts



sitemap
© 2004-2014 Just Jen. All Rights Reserved.