Big Sister Tee Shirts
Big, bold letters in bright, primary colors - red, orange, yellow, green and blue - the colors of the rainbow make the Big Sister to Be shirt a fun way for any girl to announce that she has a little sister coming soon. This design is perfect for older sisters and works best on white shirts.
"My daughter loved this shirt and wore it for 2 days until made her take it off."
- Brenda, Fremont CA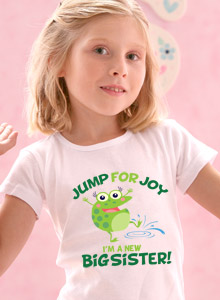 Big Sister will love the cute green frog that is jumping for joy with the excitement of a new little sister. An optional personalized name can be added to the design for the ultimate big sister tee shirts.
"...Wow, what a cute shirt. My daughter was so excited that she is was jumping up and down!"
- Erica, Las Palmas FL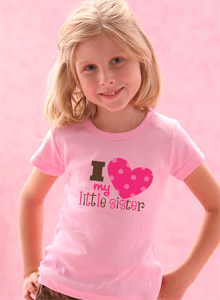 A big red heart with pink polka dots. This is one of our most popular designs for matching shirts - there is a little sister design that says I Love My Big Sister. The big red heart and polka dots make this message real clear. This shirt is great for reminding the sisters how much they love their sibling.
"good quality, the big heart is cute. but I wish there was a place for her sister' name"
- Latrice, Gainesville VA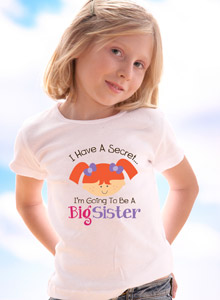 One of our favorite ways for the Big Sister to announce her new little sister to family and friends, this shirt declares I Have a Secret and tells her secret. The design has a girls face with cute pig tails and freckles. The whole message is delivered on the font of the shirt.
"...the whole family loved the way we broke the news. it was a hit, thanks!."
- Amie, Merrimack NH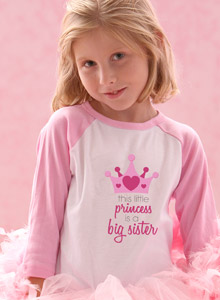 When she became a big sister, she didn't stop being a princess! This is our best shirt for a girl who loves pink, loves being a princess, and is a big sister. The crown, all in pink, and the cursive lettering style all work together to make this a fun printed big sister design for your little princess.
"...julie is walking around like a princess in this shirt. the shirt is soft, overall quality is good. i would recommend it to my friends...."
- Jillian, New York NY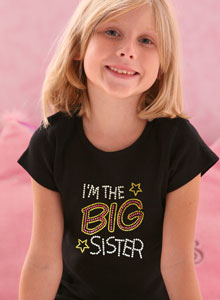 The most bold and direct rhinestone big sister tee shirt uses larger size rhinestones and large lettering. The sparkling rhinestones in this design are crystal (white), pink and yellow. The design works best on a black shirt, where the crystal rhinestones have plenty of contrast and shine.
This rhinestone design has lots of sparkle and reads "I'm going to be a Big Sister!". The rhinestones are crystal and pink color, with a big pink heart and two smaller hearts on the sides. A fun shirt to announce a birth, or just to let your daughter get used to the idea of having a newborn in the family.
"...good quality and it arrived in time for family visit...."
- Holly, Louisville KY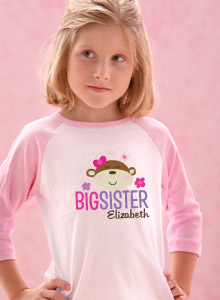 Every kid loves a monkey! Our monkey is an adorable cute monkey with a pink bow and surrounded by flower petals. The lettering is simple and says Big Sister, with the option to add a personalized name underneath. This printed shirt design works well on white and pink shirts.
"...ordered it on Thursday and it arrived Monday. Wow, never expected it could be so fast...."
- Samantha, Easton PA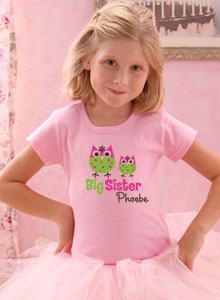 The question this shirt answers is "Who's the Big Sister?" With two cute owls and the option to add a personalized name, our Big Sister with Owls T-shirt is the second favorite shirt of our customers.
"the owls are real cute both girls are wearing them to school now"
- Nicole, New Castle PA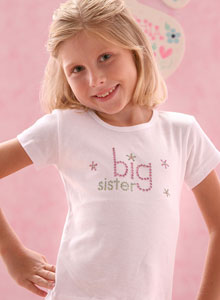 Our original rhinestone big sister design is still the most popular. The word "big" is made with a larger size rhinestone, for even more bling and impact. There are four sparkles that surround the words. The rhinestone colors for this shirt are pink and peridot (light green). The rhinestones sparkle well on white and pink shirts, but can also work on a black shirt.
"my daughter LOVES, LOVES LOVES her gift. those rhinestone are so sparkly and the shirt feels soft too. great product.."
- Kelly, Milwaukee WI
Create Your Own
Big Sister Shops
Girls Clothing
Shops

sitemap
© 2004-2014 Just Jen. All Rights Reserved.