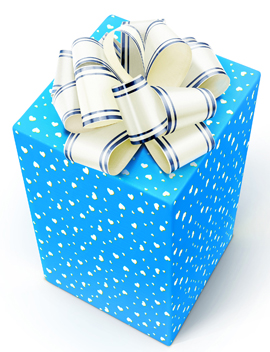 It's finally happened: you're getting married, and you want your sisters and friends to play important roles by being in your bridal party! By including those closest to you in the bridal party, you will ensure that the women who matter the most in your life will share your big day. From the bridal shower to the bachelorette party, you will need to prepare yourself for an action-packed wedding weekend with your bridesmaids!
But when it comes to thanking your bridal party for sharing your big day, what are you expected to give to them? Should you go all out and get big-ticket items, or should you put together thoughtful gift bag arrangements? Should you get matching bridal party t-shirts for every member of the party, or just for the bride? Relax: here are expert guidelines on the ultimate bridal party gift-giving etiquette that will not only please even the most discerning bridesmaid – it will save you a whole lot of much-needed time and energy in the meantime!
Consider Their Finances
Before you can begin to set up a budget for bridal party gifts, ask yourself how much they're spending on your wedding. Are they shelling out for airplane tickets, hotel rooms, transportation and other big-ticket expenses? Additionally, are they paying for the bridesmaid dresses and shoes themselves? If that's the case, then a $15 necklace might seem a little impersonal. Upgrade your gift-giving by buying personalized items that cost a bit more as a way of saying "thank you" for their financial investment in your big day.
Consider Your Finances
That being said, you're not expected to blow the bank on bridal party gifts; after all, that's what your wedding is for! Sit down with your fiancé and talk about what you can reasonably afford. Favor personal items over expensive gifts, as a personal touch will go farther in letting your bridal party know that you appreciate their efforts.
Choose a Popular Gift That's Right For Everyone
A big hassle that every bride will come across is choosing a bridal party gift that all bridesmaids will appreciate. What might work for one girl might not work for another, so it's important to pick a gift that will be a big hit with even the most discerning bridesmaid. Instead of giving wine or a tote bag, give each bridesmaid a personalized bridal party T-shirt made with rhinestone crystals, as they're a dazzling gift that will have each girl eager to put on her elegant and trendy T-shirt.
Don't Wait Until The Last Minute
Nothing invites disaster quite like waiting last-minute to purchase those bridal party gifts. Spare yourself the last-minute stress by keeping your eye out for great deals up to two months before the wedding. Besides, if you're looking to give personalized gifts, you will need that time to allow for the gifts to be created and delivered.
Remember, bridal party gift-giving etiquette boils down to demonstrating your appreciation and gratitude for the time and energy of your bridesmaids – not to mention their patience!